"Even if there were a sword in the hands of everyone, it is willpower that establishes a government," said the greatest Indian king of bravery and valor, Chhatrapati Shivaji Maharaj.
Are you searching for the interesting facts about Chhatrapati Shivaji Maharaj? Do you too feel the fire within you reading stories of Shivaji Maharaj?
I am the proud disciple of Shivaji Raje, and I'm going to talk about the interesting facts about Chhatrapati Shivaji Maharaj from Indian history.
In the tapestry of Indian history, the indomitable Chatrapati Shivaji is known as a figure of unparalleled courage and wisdom. His sacrifices and courageous victories, make him stand as a timeless legend. His monumental achievements in Indian history remain unmatched!
Chhatrapati Shivaji Maharaj, also known as Shivaji or Shivaji Raje Bhosale, was born on 19 February 1630 in Pune's Shivneri Durg to Jijabai and Shahaji Bhosale.
Shivaji Maharaj displayed his prowess on the battlefield, exercised supreme governance, and undertook a nation-building oath when he was only 15!
Yet, Shivaji Raje was more than a warrior and statesman; he embodied a visionary spirit. His dreams extended beyond borders as he envisioned a vast and harmonious Hindu nation! With his idea of 'Hindavi Swaraj', our Maratha warriors broke the brutal Mughal clutches and oppressive rule of the Mughal emperor Aurangzeb.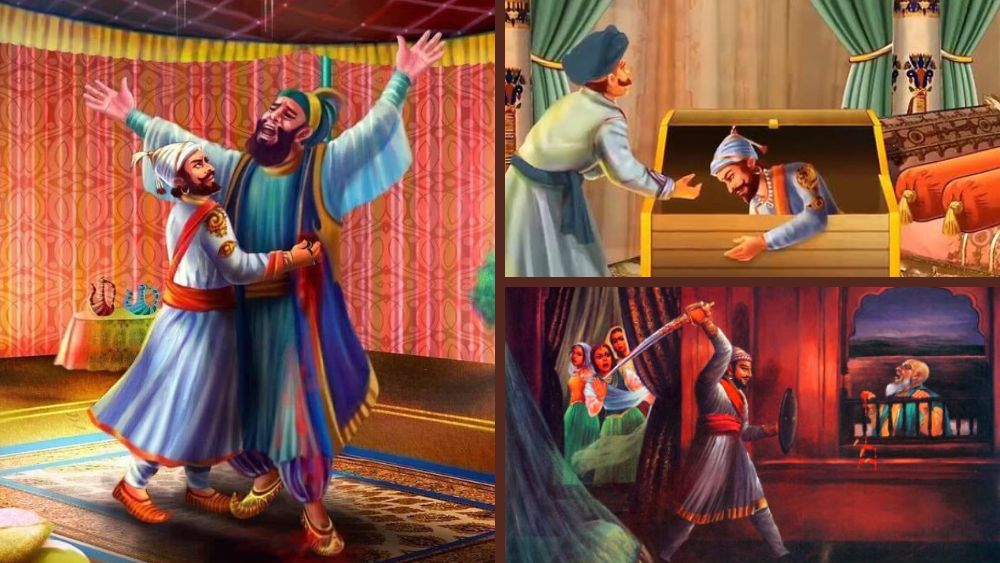 I'm truly excited to present before you the 9 interesting facts about Chhatrapati Shivaji Maharaj!
1. Shivaji Maharaj Showed Signs Of a Warrior Since Childhood
Jijamata greatly influenced Shivaji Raje, teaching him the Ramayana, Mahabharata, and Gita from his childhood. Maharaj learned the art of swordsmanship, winning forts, and war practice under the leadership of Dadoji Kondev.
Shivaji Raje started his fight against the Mughal invasion to bring back glory to our nation at the age of 15! He is a true inspiration for all Hindus and proved to be their savior.
2. Shivaji Maharaj Is Known As The Father Of Guerrilla Warfare
What is guerrilla warfare of Shivaji Maharaj? Shivaji Raje is considered the father of Guerrilla warfare (ganimi kawa), which means having an awareness of the geography of lands, and guerrilla tactics like raiding, ambushing, and surprise attacks on his enemies.
Rival army generals labeled Shivaji Maharaj as the 'Mountain Rat' due to his guerrilla tactics.
The guerrilla warfare technique is still used by armies worldwide to destroy enemies on the battlefield.
3. Hindavi Swaraj,' A Call For Our Own Self-governance By Chhatrapati Shivaji Maharaj
Shivaji Maharaj dreamt of a democratic governance system and coined the slogan 'Hindavi Swaraj.' This dream influenced freedom fighters like Gandhi and Tilak during the freedom struggle.
Shivaji Raje took the oath for 'Hindavi Swaraj' during the brutal and difficult Mughal reign.
4. Shivaji Maharaj held unwavering faith in the teachings of Swami Samarth Ramdas
Guru Samarth Ramdas shaped Shivaji Maharaj's life, by guiding him in life's important decisions made only after consulting his revered mentor.
Swami Ramdas gave a divine vision to all of the life decisions of Maharaj. This explains to us the importance of having a 'guru' behind every successful man.
5. Goddess Tulja Bhavani gave the Sacred Sword to Shivaji Maharaj
People in Osmanabad and the surrounding regions of Maharashtra worship Tulja Bhavani. It is believed that Goddess Bhavani had appeared before Maharaj and handed him the mighty sword by herself.
Some might think it a story, but you can visit The British Museum, London, and witness 'The Bhawani' sword!
6. Shivaji Maharaj Stood For The Honour Of Women
Shivaji Raje was a respectable leader and supporter of women. He was totally against women's harassment and violence during raids. Be it any caste or religion.
Under the reign of Maharaj, women from captured territories were never taken as prisoners. People who tried to harass women were punished severely.
Jijabai taught Shivaji the right ethics and principles of respecting women and treating them with utmost regard. That was the main reason why women felt safe during the rule of Shivaji Maharaj.
7. Chhatrapati Shivaji Maharaj is known as 'The Father of Indian Navy'
In its early stages, Shivaji recognized the significance of a formidable naval force. He constructed a powerful navy to deter foreign invaders such as the Dutch, Portuguese, and British, as well as pirates.
Shivaji Maharaj built naval forts namely Vijaydurg, Sindhudurg, and numerous other locations, and he commissioned four distinct types of warships, including Manjuhas, Pal, Gurabs, and Gallibats. Therefore, he is revered as the father of the Indian Navy.
8. Shivaji Maharaj Accomodated All The Religions
Shivaji Maharaj established a reputation for his liberal and tolerant religious policies. Despite being a Hindu, he granted Muslims the freedom to practice their religion and provided them with financial support for their religious activities.
Shivaji forged alliances with neighboring Muslim nations, even at times against other Hindu powers. Within his own army, there were many Muslim soldiers too, and his inaugural naval admiral was also a Muslim.
This principle clearly explains that Maharaj believed in humanity and not the background of the person.
9. Maharaj Converted His Army Of 2,000 Men Into 10,000 Skillful Soldiers
Shivaji Maharaj inherited 2,000 soldiers from his father Shahaji Raje and expanded them to 10,000, recognizing the significance of a formidable army.
Shivaji perfected warfare strategies and operated with an intelligence unit that aided in devising tactics, including guerrilla warfare.
Since childhood, Jijibai molded and nurtured Shivaji, inspiring him with stories from epics. All those wonderful morals are reflected in the stories of Shivaji Maharaj.
Do you want to read more interesting and inspiring tales about Shivaji Maharaj? 'Shivcharitra' is the perfect book for you to explore important aspects of Chhatrapati Shivaji Maharaj.
Are you still looking for more information about Shivaji Maharaj?
Here are 5 unknown facts about Maharaj that will fill your heart with pride!
1. 'Shivrajyabhishek Sohla' i.e., the Coronation ceremony of Chhatrapati Shivaji Maharaj completes 350 years in June 2023.
2. Shivaji Maharaj captured his first fort, Torna Fort, in the present-day Pune district at the age of 16!
3. Shivaji Maharaj's name is derived from the name of 'Goddess Shivai.'
4. Chhatrapati Shivaji Maharaj is known as 'Jaanta Raja' meaning 'the king who knows and understands."
5. Shivaji Raje was coronated as the king of Marathas on 6th June 1674 after the battle of Sinhagad.
Conclusion
A visionary leader of 17th-century India pioneered a realm of progressive governance. As the architect of numerous forts and an advocate for progressive policies, he left an indelible mark on India's history, honored as the father of the Indian Navy and an enduring symbol of enlightened rule.
We Indians are truly blessed to have such a mighty leader who saved his people from the deadly claws of the Mughals.
I would like to end this tribute with a quote…
"A true king knows how to win even when the battle is lost. A true king knows how to live even when his life is lost."
A king like Shivaji will always live in our hearts. Chhatrapati Shivaji Maharaj ki Jay!
The blog is written by Ashay Chandekar from Deshpee. The images have copyrights from their respective sources.